Bramble Park Zoo
Watertown, South Dakota
Bramble Park Zoo was founded in 1912 when Frank Bramble donated a collection of pheasants and waterfowl to the city of Watertown. The zoo moved to its current location in 1940, and additional exhibits were constructed by the Works Progress Administration (WPA). The Lake Area Zoological Society was founded in 1972 as a membership organization for the zoo. With its support, the zoo continued to expand and was accredited in 1993. Since then the zoo has continued to grow and improve their exhibits.
From its humble origins, the zoo has grown to now include animals from all over the world. The Terry Redlin Environmental Center at the main entrance is home to an impressive collection of aquariums and small animal exhibits. Other areas of the zoo include Jaguar Junction and a very nice children's zoo. On its 15-acre site, the zoo manages 680 animals from 120 different species. It is accredited by the AZA and has been reaccredited at each renewal. In 2018, it received a Quarter Century Award from the AZA celebrating its 25th year of continuous approval.
Bramble Park Zoo participates in numerous Species Survival Plans, including those for the De Brazza's monkey, three-toed sloth, and swift fox. In local conservation efforts, the zoo has run a raptor rehabilitation center for over 25 years that treats and releases hundreds of birds of prey, including bald eagles. It also runs a successful program fostering wood ducks, which are common to the Prairie Pothole Region where the zoo is located.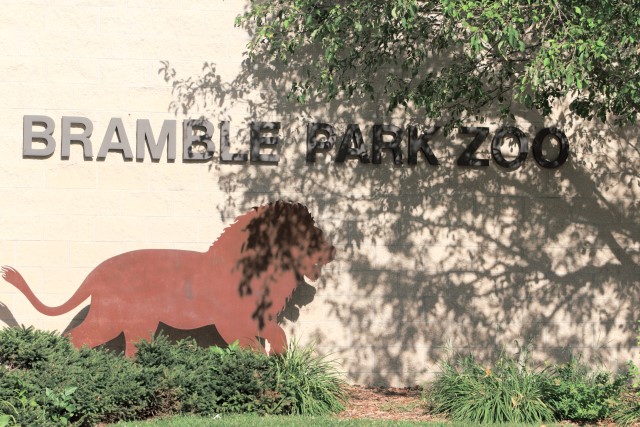 Galleries
PLAN YOUR VISIT
Address : 800 10th St NW, Watertown, SD 57201
Main Phone : (605) 882-6269
Website : https://www.brambleparkzoo.com/
Become A Member : https://www.brambleparkzoo.com/membership/
HOURS
Labor Day - Memorial Day:
Sun - Sat : 10:00 am - 4:00 pm
Memorial Day - Labor Day:
Sun - Sat : 10:00 am - 7:00 pm
Closed:
Veteran's Day, Thanksgiving, Christmas Eve, Christmas, New Year's Eve, New Year's, Martin Luther King Jr Day, and Presidents' Day