Dickerson Park Zoo
Springfield, MO
Dickerson Park Zoo was founded in 1923 from land acquired by the city of Springfield from a former hotel that had a small private zoo. The zoo was expanded in the 1930s by the Works Progress Administration. But it was largely forgotten after that and fell into disrepair. On the verge of being closed in 1975, it had new life breathed into it by the newly formed Friends of the Zoo organization. And it has been completely revitalized since then into the place it is today.
The zoo is now home to over 500 animals from 160 different species. The zoo is divided into different areas based on continents with sections devoted to Africa, Asia, South America, North America, and Australia. The North American part has a particular focus on animals found in the state of Missouri. The zoo is in the middle of its second master plan for the zoo, focusing on new exhibits and making the zoo a leader in conservation. It is accredited by the Association of Zoos and Aquariums (AZA) since 1986 and has been re-accredited at each renewal.
Dickerson Park Zoo participates in several Species Survival Plans, but their main focus is supporting conservation and research efforts around the globe. Some of these conservation efforts include research on the Maned Wolf, Chacoan Peccary, and Red-Necked Ostrich. The zoo is also heavily involved in research on Elephants, notably the Asian Elephant.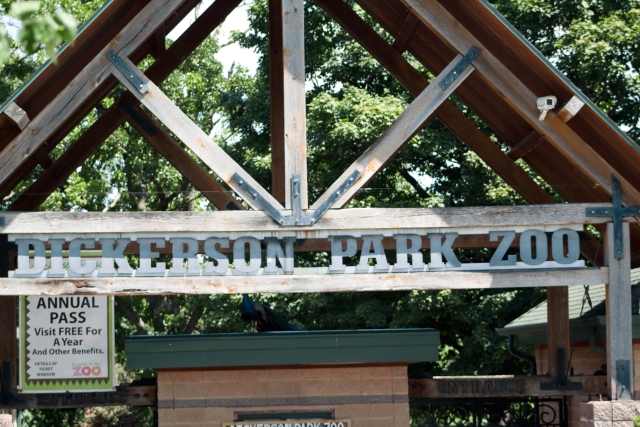 PLAN YOUR VISIT
Address: 1401 W Norton Rd, Springfield, MO 65803
Information Phone: (417)-864-1800
Main Phone: (417)-833-1570
Website: https://dickersonparkzoo.org
Membership: https://dickersonparkzoo.org/Zoo/zoo-membership-2/
HOURS
November–March:
Sun - Sat: 10:00 pm - 4:00 pm
April–October:
Sun - Sat: 9:00 pm - 5:00 pm
Closed:
Thanksgiving, Christmas Day, and New Year's Day
Notes: 
Closed if walkways are covered with ice or snow.